Bulk Goods Metal Detectors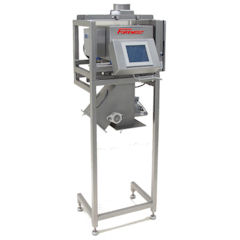 Bulk goods such as spices, rice, peas, corn, milk powder and flour can become easily contaminated with metal as they fall from one place to another. To prevent this, metal detectors are often inserted into the pipe to monitor these goods as they fall freely through the pipe. The pipeline must be opened to accomodate the detector, and where the opening is not large enough, only a detection coil will be used. This coil generates an electrical impulse to warn production operators about any possible metal contamination. Where it is possible, we recommend a downstream separating filter so that contaminated material can be removed automatically.
MESEP GF
Digital Plus GF
Features
Applications
MESEP GF
The MESEP® GF was designed for removal of magnetic and nonmagnetic metallic contaminants in downpipes with high material throughputs. Despite the large ring coil opening of 150 mm or 200 mm, this model can achieve maximum levels of sensitivity. Operation of these units is very simple and they are easy to put into production. All required settings are made by key input. After all the settings are inputed, all temperature variations and environmental factors will be readjusted automatically. For particularly cirtical or frequently changing bulk materials, we also offer the MPULSE units which can eliminate environmental and electrical disturbances from the food itself.
Digital Plus GF
Features
Applications