Silos – Bolted and Welded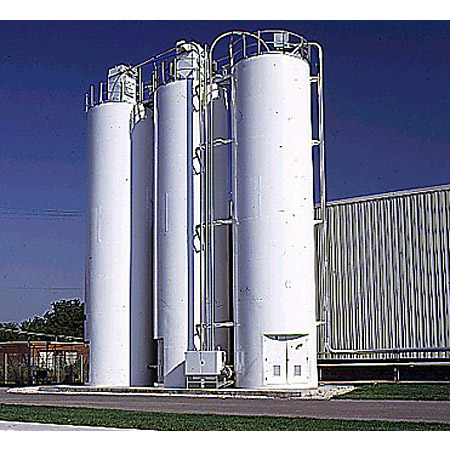 Foremost Machine Builders supplies storage silos for liquid and dry bulk storage. Using a factory baked coating system, our storage silos are the most advanced storage silos in the industry. Our bolted and welded liquid storage silos are available in epoxy-coated carbon and stainless steel in capacities ranging from 4,000 to 2,400,000 gallons. We also supply dry bulk storage silos in a wide variety of bolted and welded silos in sizes up to 900,000 ft3 (25,000m3). Our storage silos are recognized throughout the world. We provide dry bulk storage applications for the chemical, petrochemical, mineral, food, grain, plastics and dry bulk handling industries.
Storage Silos
Resin Silos
Bulk Silos
Bolted – Carbon Steel | Stainless Steel |Aluminum
Welded – Carbon Steel | Stainless Steel | Aluminum
Foremost will design your storage silo to meet the specified codes and recognized standards. All of our facilities are ISO 9000 quality system certified. With silos and tanks in over 100 countries, Foremost is your single source for liquid and dry bulk storage.
Plastics
Our welded and bolted silos have become the industry standard. Our product testing services can determine the optimum design for reliable flow of plastic resin products. Common applications include welded carbon steel silos with AR-Lon 6100™ interior coating, skirted welded stainless steel silos, bolted or welded gravity blending silos, and welded aluminum silos on legs.
Dry Bulk
Foremost provides original bolted design storage silos for grain/seed, wood and other dry products such as crushed rock dust, kiln dust, etc. There are grain storage silos that utilize "smoothwall" steel sidewall panels. Unlike light gauge corrugated panels, smoothwall construction is heavier, minimizes product hang-up and is designed for process requirements.
Industrial
Our bolted tanks are suitable for a variety of industrial liquids. Our factory-baked protective coatings for carbon steel and our stainless steel fabrication, coupled with a broad selection of gasketing and hardware, provide reliable storage solutions for numerous applications. Bolted tanks may be fitted with plastic encapsulated bolt heads and nut caps for additional protection.
Mineral
Our bolted silos are commonly used for mineral storage applications, including crushed rock, coal, granular materials and dust. Our abrasion resistant coatings are factory applied and baked. Mineral dry bulk storage silos with hopper bottoms can be erected on structures. They can also be skirted for truck or even railcar loadout. Our XL bolted silos have also been used on large scale cogeneration projects and other specialized applications.