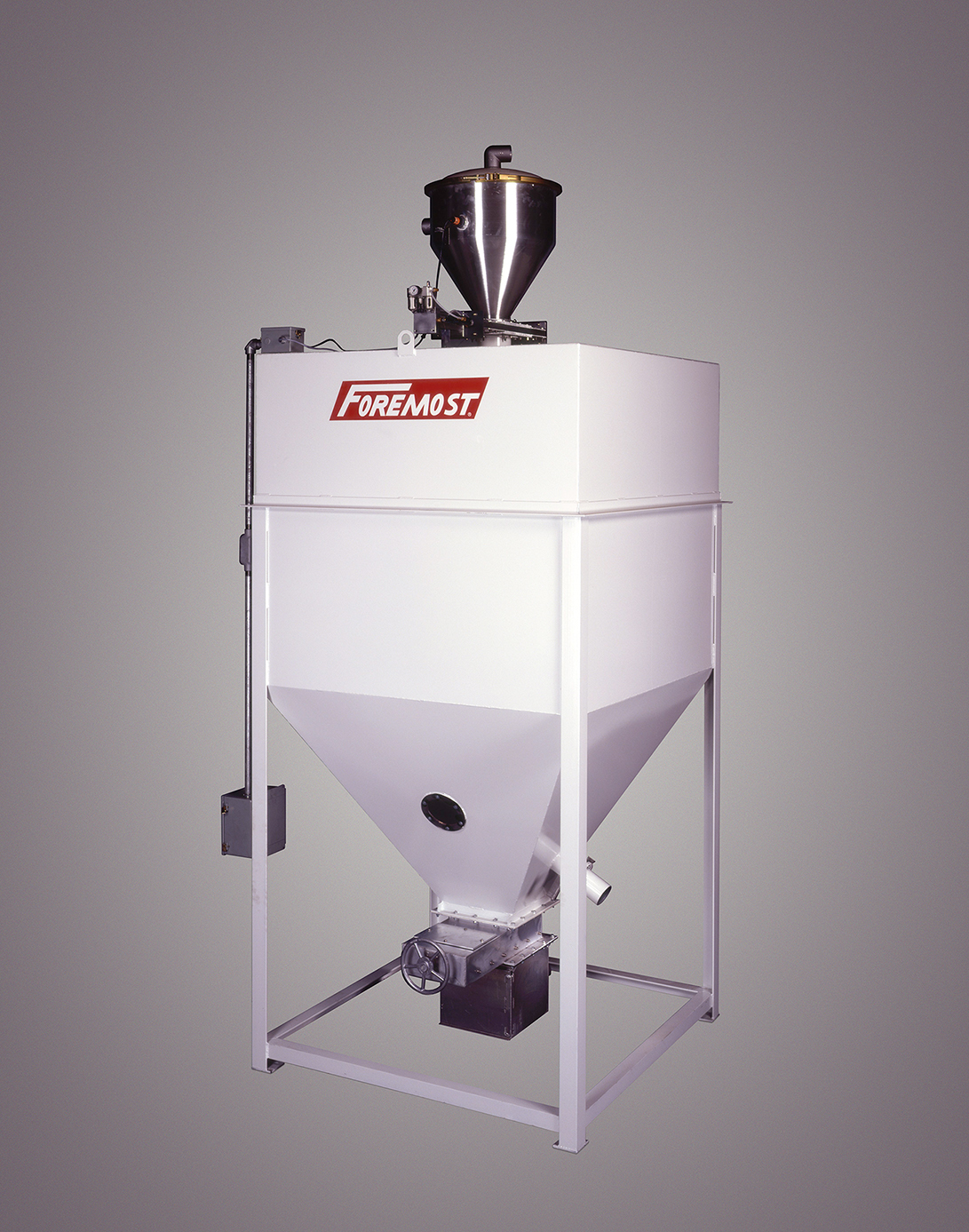 Foremost manufactures material bulk hoppers for the temporary storage of fluid, granular and powder materials. All our hoppers are available in a full range of sizes on an individual basis or integrated into a turn-key, plant wide processing system. Our material bulk hoppers are large containers for the temporary storage of liquids, granular materials and many other related ingredients. They store these materials for batch and continuous process applications in bulk processing plants. Our hoppers are designed so that stored material can be dumped with ease. They are made out of aluminum or steel for heavy-duty use, and plastic for light duty applications.
Versions
Hoppers are used for the temporary storage of materials. They are designed so that stored material can be dumped easily and delivered to the processing equipment. There are several different types of hoppers including dumpers and tippers. Other examples include bottom hoppers, live hoppers, cropper hoppers, cullet hoppers, and sludge hoppers; dump boxes, chip boxes, trash boxes, and scrap boxes; and various types of refuse equipment. Bottom hoppers are designed so that stored materials can be dumped from the bottom of the hopper. Dumpers and self-dumping hoppers are included in this category. Live hoppers or live-bottom hoppers use hydraulically or mechanically actuated augers or screws to help discharge viscous materials. Some hoppers have a base that allows them to be lifted by forklift for dumping. Others have a positive locking-latch mechanism to prevent accidental dumping. Tilt hoppers, dewatering boxes, and rotating or rotator boxes may also provide special features.
Surge Bins
Storage bins are frequently located inside the facility to provide an in-plant surge capacity for the distribution system. This is especially true if the plant location is such that the outside environment is subject to large seasonal variations in temperature and the extrusion process requires material at a relatively consistent temperature for process stability. Inside storage bins of sufficient volume, commonly called surge or day bins, allow resin temperatures to stabilize before processing. Inside storage bins are also necessary if the system distances and throughput requirements would require the system conveying lines and pump sizes to be prohibitively large if conveying were direct from silo to destination. The inside bins are located between the silos and the distribution system and are typically loaded by a conveying system separate from the in-plant distribution system.
Applications
Hoppers differ in terms of applications and features. Some are made with the material handling applications in mind. Others are suitable for processing, recycling or handling hazardous materials.
Plastics
Recycling
Material Handling
Specifications
Hoppers can come in a variety of styles with some specialized features for those unique situations. Hoppers can be designed for heavy duty operation. They can be insulated, resistant to moisture, temperature controlled with special mounting methods. Other hopper designs include wheels or rollers for added portability. Other important hopper specifications include:
Volume Capacity – the volume of material a hopper is supposed to hold.
Weight Capacity – the weight of material that a hopper can contain.
Depth or Length, Height, Width or Diameter – for instance, the distance from the front opening to the back of the hopper.
Material of Construction – while most hoppers are made of plastic or metal, i.e., polyethylene, polypropylene or stainless steel and aluminum.
Typical Indoor Surge Bin Specification
One (1) welded carbon steel surge bin, leg type with a 45 or 60 degree hopper bottom and a working capacity of between 500 and 10,000 lbs. based on plastic pellet material with an average bulk density of 35 – 40 lbs./ft3 complete with:
Sight glass, minimum 4-in. dia.
Drain tube, minimum 4-in. dia. with manual slide gate 45 or 60 degree hopper.
Typically 4', 5', 6' or 8' square.
High level switch, proximity type, 30 mm threaded, or rotary type.
Low level switch, proximity type, 30 mm threaded, or rotary type.
Common alarm panel (Nema 12), including globe light, indicating lights and alarm silence button.
12″ manual slide gate, aluminum construction, hand wheel operated.
Aluminum vacuum tray adapter (up to 6) outlets, 1 ½" to 4" OD.
Vacuum loader receiver mounting extension, cast aluminum with integral, panel-type replaceable filter or provisions to accept a regrind receiving cyclone with a bin vent filter.
High legs for gaylord discharge from drain is optional.
Ladders and access platforms are optional.
Aluminum and Stainless Steel construction are also available