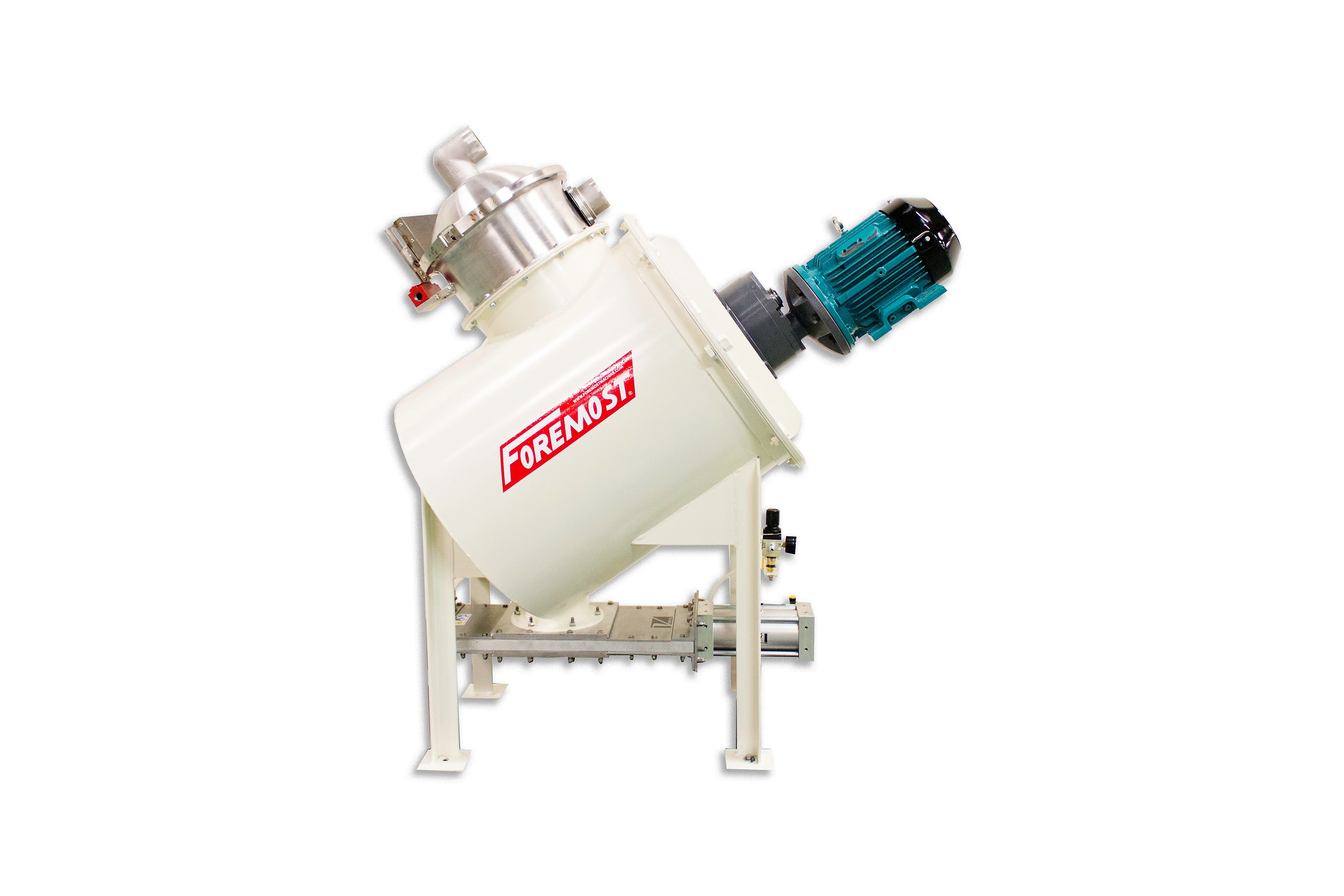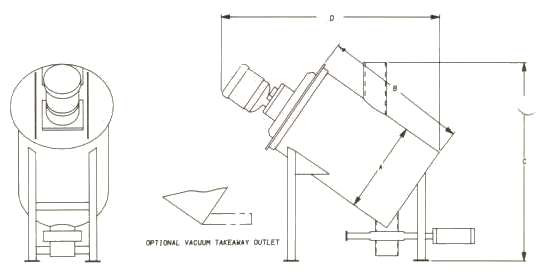 Foremost barrel mixers offer economical low intensity mixing designed to achieve homogeneity quickly. Ideal for a variety of material handling duties, these barrel mixers can reach homogeneity within 15 to 60 seconds depending on the materials being mixed. Using a counter-current flow pattern, the mixer agitator pushes the material uphill against gravity. Gravity pulls the material in the opposite direction towards the bottom outlet. Material is also simultaneously folded over itself by the agitator. Low-point bottom discharge insures complete clean-out either through a dump valve or by vacuum.
Design Features
Standard Features
Options
Vacuum Barrel Mixers
Design Features
The Inclined Barrel Mixer consists of an inclined cylindrical housing with a center mounted agitator. The constant speed A.C. drive is mounted on the bolted cover which has a hinged access door and a safety switch. The single agitator is designed for efficient mixing at low tip speed. This design decreases power requirements as well as material degradation due to attrition, impact, or temperature rise.
The rugged welded carbon steel housing is supplied with integral leg supports for floor or machine mounting. A 6″ dia. inlet and a 6″ dia. outlet with a manual slide gate dump valve are standard. The standard mixer control is timer based, but may be designed for on-demand operation or as part of Foremost's line of volumetric or gravimetric multi-ingredient blenders.
Options include positive closure inlet and dump valves, as well as in-line vacuum loading and unloading.
Standard Features
Options
Vacuum Barrel Mixers
| Model # | A | B | C | D | Working Capacity (cu ft) | Motor HP |
| --- | --- | --- | --- | --- | --- | --- |
| MBM-150 | 12″ | 24″ | 18″ | 44″ | 0.75 | 1/2 HP |
| BM-275 | 16′ | 24″ | 26″ | 44″ | 1.5 | 3/4 HP |
| BM-650 | 24″ | 26″ | 44″ | 46″ | 4 | 1-1/2 |
| BM-1000 | 24″ | 37″ | 49″ | 49″ | 5 | 3 |
| BM-1500 | 30″ | 37″ | 58″ | 58″ | 8 | 3 |
| BM-2100 | 36″ | 36″ | 58″ | 60″ | 10 | 5 |