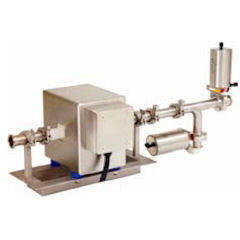 In many food processing plants, liquids or semi-liquid paste are processed and shipped through elaborate piping sytems to their packaging destination. During the transportation of the liquid foods, metal contamination can occur. Our stationary in-line systems, can control paste-like or liquid products, such as ketchup, toothpaste, tomato paste, and fruit juice, as they are transported through pipes.
To detect metal in liquid foods as they pass through a pipe, the pipe itself must be designed to be free of metals. Depending on the consistency of the liquid inside the pipe, the metal detection system will use an pistion or butterfly valve ejector system that.
The valves conform to FDA requirements for the food industry. All the systems have a temperature resistance of 70 degrees at a pressure of 16 bar. Other solutions are available for more stringent requirements. If the pipelines are rinse hot, the valves could be pulsed to perform an effective and thorough cleaning at the push of a button We offer solutions in sizes NW 40, NW 50; NW 65; NW 80 to NW100
Advantages
Outstanding Sensitivity, Accuracy, Stability and Precision.
Product Effect Compensation featuring the ltest four channel DDS [direct digital synthesizer] and DSP [digital signal processor] technology.
High Processing Speed – DDS and DSP makes the MPULSE the leader in digital metal detection.
Digital balance control – levels temperature and humidity influences.
Easy Setup
Auto calibration – once the unit is calibrated there is no need for recalibration.
Digital Noise Filters – eliminate undesirable signals such as vibrations and shocks.
Mulit-channel Technology – for the optimum recognition of all metals; ferrous, nonferrous and stainless.
Power supply – wide input 85-265 V AC works great even with unstable and poor power sources.
Automatic diagnostics – possible functional defects of the device are displayed on a separate output contact.
The separating piston is also taken apart and cleaned in a very brief time. As a result of a new functional principle, tiny bones can no longer cause blockages.
All the seals are long-lasting and reliable.
Applications