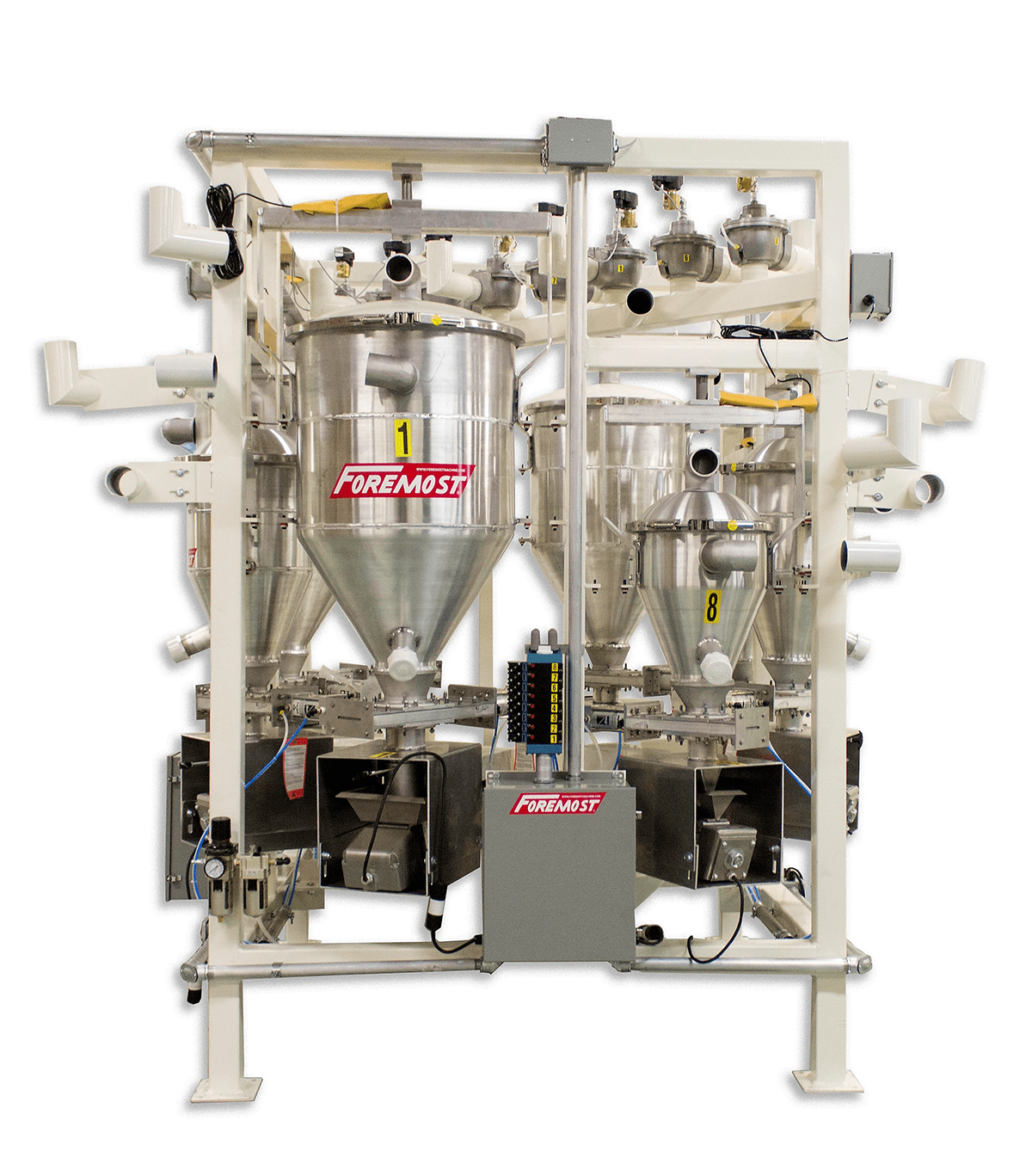 A typical target weight loss weight blender has each metering feeder mounted to an independent, load cell supported, weighing hopper. In some designs, the metering feeder is separated (de-coupled) from the weighing hopper to lessen the amount of "dead load" on the load cell. The purpose for this is to improve the resolution of the live load being weighed. This can be important when small amounts of a material are required in a formulation. However, de-coupling adds complexity to the system, is sensitive to poor material flow properties and can cause errors in the blend proportions if the principles of operation are not properly understood and followed.
For these reasons, the majority of loss weight feeder stations supplied to the industry utilize a feeder coupled to the weigh hopper. Each weigh hopper measures the weight of material leaving it. The weighing system is programmed for simultaneous and proportional metering of each ingredient. Since each ingredient is weighed using an independent load cell, each cell can be sized and spanned to maximize the resolution of the A/D conversions. This yields very precise and accurate weightiness.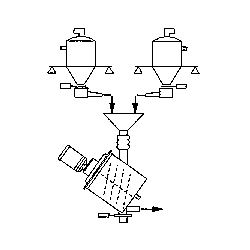 Typical Loss Weight – Target weight Blender – Multiple individually weight ingredients are fed simultaneously into a batch hopper or mixer to individual proportional weights. The batch is mixed and discharged to the downstream process.
Control Features
Optional Components
Applications and Modes of Operation
Mechanical Features
Control Features
NEMA 12 Enclosures (Low voltage)
Stain gauge bridge sensors (one per component)
24 VDC Power Supplies
Necessary fuses, blocks, wire way, etc
Alarm horn
Alarm light/beacon
4" cooling fan and exhaust grill
TFT Color touch screen display including:

Custom programming
Automatic status control
Multiple recipe configuration
Weight calibration
Feeder calibration
station parameters
Blender parameters
Optional Components
Applications and Modes of Operation
Mechanical Features