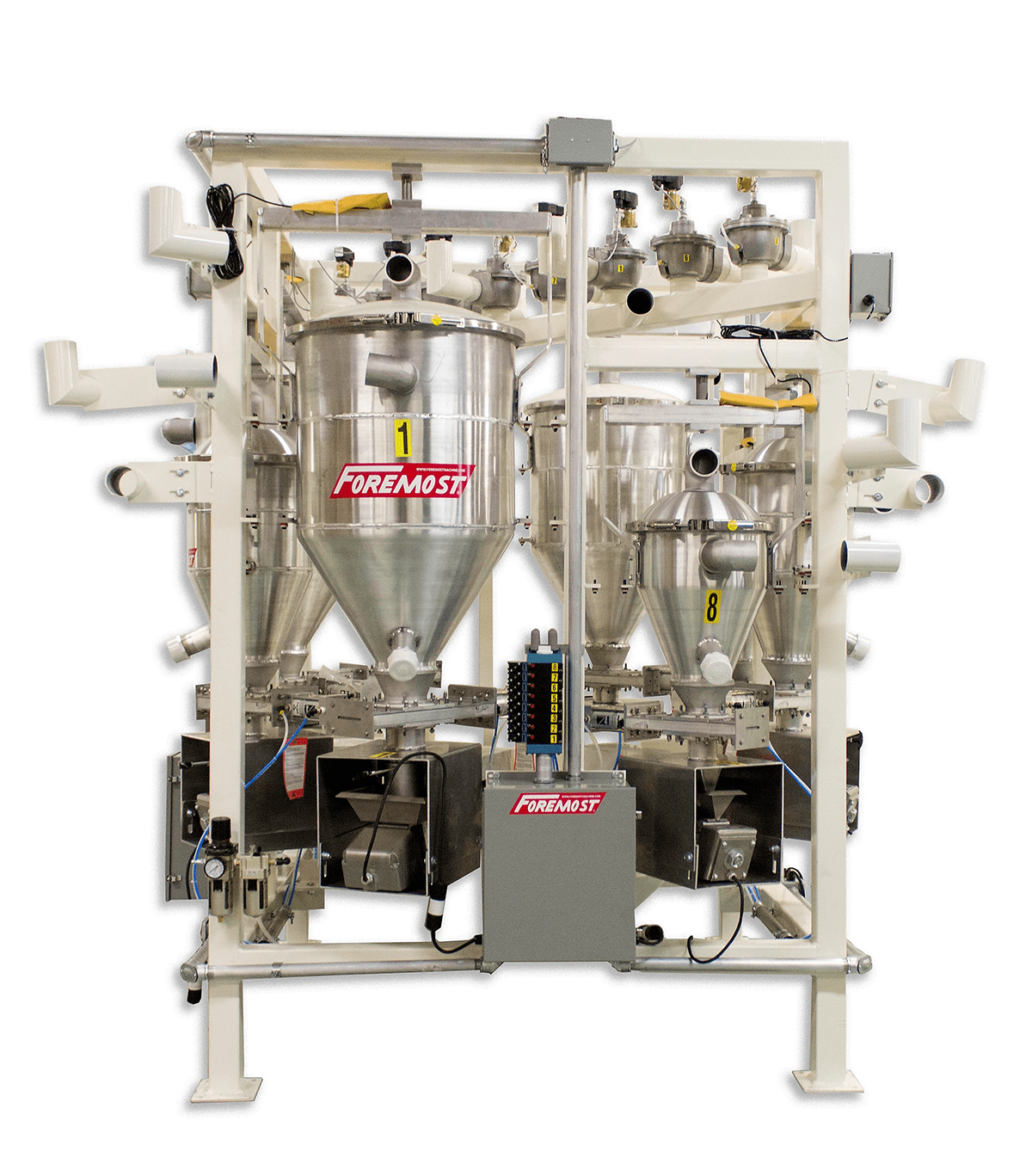 A typical target weight loss weight blender has each metering feeder mounted to an independent, load cell supported, weighing hopper. In some designs, the metering feeder is separated (de-coupled) from the weighing hopper to lessen the amount of "dead load" on the load cell. The purpose for this is to improve the resolution of the live load being weighed. This can be important when small amounts of a material are required in a formulation. However, de-coupling adds complexity to the system, is sensitive to poor material flow properties and can cause errors in the blend proportions if the principles of operation are not properly understood and followed.
For these reasons, the majority of loss weight feeder stations supplied to the industry utilize a feeder coupled to the weigh hopper. Each weigh hopper measures the weight of material leaving it. The weighing system is programmed for simultaneous and proportional metering of each ingredient. Since each ingredient is weighed using an independent load cell, each cell can be sized and spanned to maximize the resolution of the A/D conversions. This yields very precise and accurate weightiness.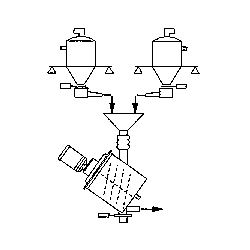 Typical Loss Weight – Target weight Blender – Multiple individually weight ingredients are fed simultaneously into a batch hopper or mixer to individual proportional weights. The batch is mixed and discharged to the downstream process.
Control Features
NEMA 12 Enclosures (Low voltage)
Stain gauge bridge sensors (one per component)
24 VDC Power Supplies
Necessary fuses, blocks, wire way, etc
Alarm horn
Alarm light/beacon
4" cooling fan and exhaust grill
TFT Color touch screen display including:

Custom programming
Automatic status control
Multiple recipe configuration
Weight calibration
Feeder calibration
station parameters
Blender parameters
Optional Components
Stainless steel construction
Powder chamber with compressed air filter cleaning for powder or dusty materials
Auger feeders in place of vibratory feeders
Flow inducers for hard to move materials
Material sampling/calibration chutes
Vacuum loader power units to load and unload
Vacuum Barrel mixers to be mounted above customer process equipment
Separate Vacuum and weigh hoppers for continuous operation
Applications and Modes of Operation
The Foremost Loss Weigh Blender is a unique blender for bulk-dry solids, which uses feeders to automatically meter materials, chosen by the user, into the user's process.

The blender is designed, standard, with three modes of operation. The Mode of operation that the blender is to run in is chosen by the user. These modes are:

MAUNAL MODE: The operator has full control of the blender and can use specific buttons on the displays to run the system manually.
GRAVIMETRIC MODE: The blender runs automatically, using the scaling functions of the blender to deliver the proper WEIGHT of each material, as set by the operator.
VOLUMETRIC MODE: The blender runs automatically to deliver the proper RATIO of each material into the process.
Mechanical Features
Each Loss-Weight Blending System consists of the following standard components:

1. Two (2) to ten (10) combination vacuum/weigh hoppers. One for each component supplied complete with:

Level switch
High accuracy tension compression load cell ( 25, 50, 75, 100, 150, or 200 KG)
Variable speed vibratory feeder ( 1 1/2", 3", 4' or 6" wide)
Positive shut-off slide gate (2",3", 4" 5" or 6")
0.2, 0.6, 1.0, 1.5, 2.0, 3.0, 4.0, 6.0 or 8.0 cubic foot capacity
Aluminum construction
Refill via vacuum loader

2. One (1) Collection chute

3. All of the above components are rigidly mounted on a leg assembly for floor mounting. Includes all limit switches, scale components, compressed air connections and vacuum control valves for completely automatic operation. The vacuum control valves will be mounted on a manifold on the blender.

4. One (1) Mixer to receive material from the collection chute:

Either a barrel or center type
low level switch
Either gravity dump or  vacuum take away outlets