Metal Detectors for Conveyor Systems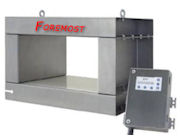 Metal detectorsfor conveyor systems are basically electronic devices designed for detecting unwanted metals in a product on a conveyor belt. Reliable metal detection depends on a number of factors including product effect, size and shape of metal contaminants, type and orientation of metal contaminants, metal detector opening size, and operation conditions.. When choosing the right metal detector for a conveyor belt system, the most important factor to consider is the shape and size of the product being conveyed. We offer two possible solutions for installing a metal detection system in a conveyor belt system: tunnel and surface detectors. While tunnel detectors are best suited for taller products that range in height from 50 mm or higher, surface detectors are best for those products that are basically flat and no higher than 50 mm.
50mm or Taller
50mm or Shorter
50mm or Taller
Tunnel detectors are best suited for products ranging in height of 50 mm and higher. This includes products from raw materials for automotive tires to PET bottles and PE cups. As these products enter the tunnel detector they are completely surrounded or immersed in a magnetic field that examines them for metal contamination. Integration of the tunnel metal detector in a conveyor belt system is complicated by metal free zones. In most cases, it won't be necessary to rebuild the conveyor belt system to accommodate the tunnel detector. But it will depend on the properties of the product and the type of metal particles to be detected.
50mm or Shorter