Metal Extractors for Vacuum Conveyor Systems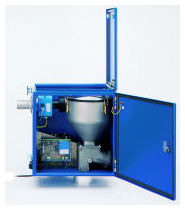 We offer three types of metal extraction devices that can be categorized in terms of performance or sensitivity levels: 1) an analog or standard metal extractor sensitive enough to detect metals parts starting at 0.5 mm, 2) a digital metal extractor for the removal of metal parts at a higher level of sensitivity starting at 0.4 mm, and 3) a digital metal extractor that can achieve levels of sensitivity starting at 0.3 mm due to a new powerful digital interference suppression capability that prevents environmental conditions from disturbing the metal detection process.
Standard Metal Extractor
Our standard analog metal extractor is ideal for those plastic processing applications that require the removal of metal particles starting at the 0.5 mm range. This device, as well as the digital models, was designed to deal with the problem in most vacuum conveying systems. In most injection molding processes, for example, the speed of the granulate material in the suction vaccum lines is rarely consistent. Metal contamination is most likely to occur at those points where the speed of the granulate varies. Our metal extraction devices reduce the effects of this variable speed using a special cyclone inside the housing. With this cyclone, you can reliably extract the metal depending on the speed of material and how long the material rotates in the cyclone. This means that you don't have to adjust the distance between the ring and flap. All our extractors feature an ultra high sensitive control unit. If you require higher sensitivity, we recommend the M-Pulse electronic board.
Digital Metal Extractor
M-Pulse Metal Extractor