Metal Separator Controllers
The Digital2 represents the next generation of our reliable electronic digital+ controller. It has an even better metal sensitivity combined with an extended feature set. The color touch screen display allows an intuitive operation of the device. The touch screen display eliminates complicated menus completely. System settings are code protected, changes are usually not required. The control unit can be used for free-fall sensors and conveyor belt devices. The Digital2 can capture and compensate product effects. The data of six products can be stored in the device. 
Features
• MODERN RECEIVER TECHNOLOGY
• MAINTENANCE FREE OPERATION
• COLOR TOUCH SCREEN / GRAPHICAL DISPLAY
• PRODUCT EFFECT COMPENSATION
• SIX PRODUCT MEMORY SPACES
• LOW ENERGY CONSUMPTION
• SUPPORT FOR PERIPHERALS
• SELF DIAGNOSTICS
• IP54 & IP65 HOUSING VERSIONS
Technical Data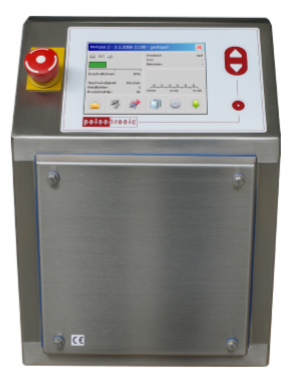 M-Pulse2 combines the highest metal sensitivity with reliability and user friendly handling. Modern receiver technology paired with effective signal evaluation collects all sensor data with the highest precision. Completely maintenance-free operation by means of automatic drift compensation and a continuous internal self-diagnosis are standard features. All sensors from the foremost product line are supported. A quartz accurate signal generation and the modern receiver technology completely replace calibration measures. Dowtime and production losses are a thing of the past. The M-Pulse2 is also available with ethernet. In the process, all events can be logged and evaluated in accordance with HACCP, ISO or IFS. The comprehensive user management and documentation data make the M-Pulse2 the first choice in quality control.
Features
• FOUR-QUADRANT TECHNOLOGY
• MULTI-FREQUENCY TECHNOLOGY
• TOUCH SCREEN / GRAPHICAL DISPLAY
• HIGH-PRECISION PRODUCT EFFECT OFFSETTING
• UNLIMITED PRODUCT MEMORY SPACES
• NETWORKING / ETHERNET / USB
• COMPREHENSIVE SUPPORT FOR PERIPHERALS
• REMOTE DIAGNOSTICS
• DISPLAY TRANSMITTED BY RS485
Technical Data