Metal Separators for Bulk Material Handling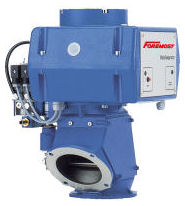 When it comes to handling bulk plastic materials, metal separators have to be designed so that they can handle bulk materials that are free falling. We offer two metal separator sizes: 1) Compact and 2) Large Scale metal separators. Our compact separators can handle material throughputs rates ranging from 300 to 8,000 l/h, while larger models can handle material throughputs rates ranging from 8,000 to 300,000 l/h. Finding the right metal separation system is a major concern for most plastic recyclers. Not every process requires the highest levels of sensitivity or has to handle high material throughput rates. Depending on the size of the metal parts to be detected, the kind of material being conveyed, how much material has to be handled, and where the metal separator fits into the process, we can help you choose the right solution for your process.
300 – 8000 I/h
VA Series
8000 to 300000 l/h
300 – 8000 I/h
In a typical plastic recycling system, the raw material will flow from the the top of the helical lifting conveyor into a metal separator. In some applications, using gravimetric dosing, a second metal separator is introduced that will move the rejected material from the first separator kernel by kernel to the second separator. Without a second separator the separation of metal is not as accurate or precise, and the material lost can be as high as 5,000 l / week. With a second separator, material loss is reduced to a little as 40 l/week. In just a few months, this two tiered solution will pay for itself.
VA Series
8000 to 300000 l/h