Mini-Blenders: MB-150/400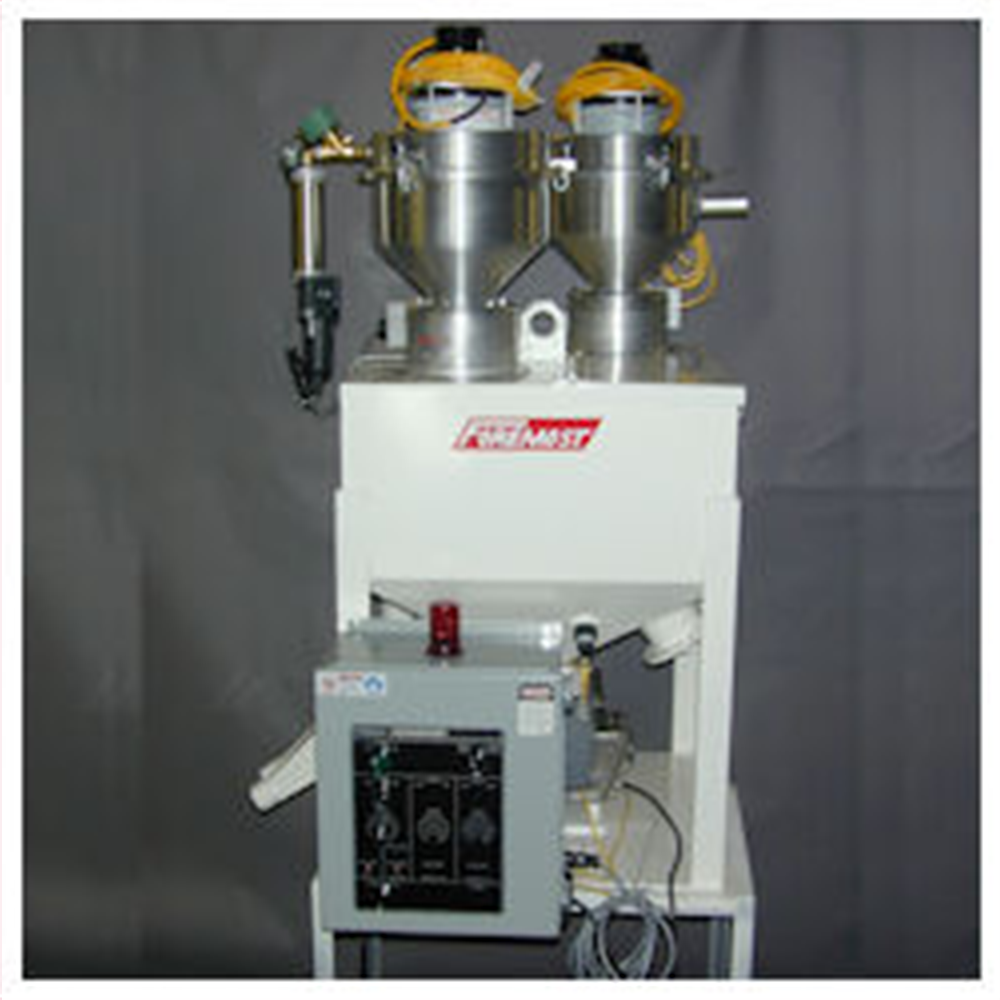 The Foremost Mini-Blender is a compact blending unit designed to blend virgin regrind and up to two color (or additive) materials to the processing machine at a fixed concentrate. The standard unit mounts directly to the machine hopper and is ideally suited for use with conventional blow molding, injection molding and extrusion equipment.
The blender is comprised of one (1) large bin, either 150 lbs. or 400 lbs. capacity, with a metal partition in the middle. One side is used for regrind, the other side for virgin. Each side has an outlet which feeds material onto a single wide tray vibratory feeder. An adjustable gate on each outlet is used to establish the ratio of virgin to regrind being fed to the vibrator. The vibrator feeds both materials through a mixing chute directly into the processing machine hopper. A level switch, located in the machine hopper, controls the blender feeder maintaining a full hopper at all times.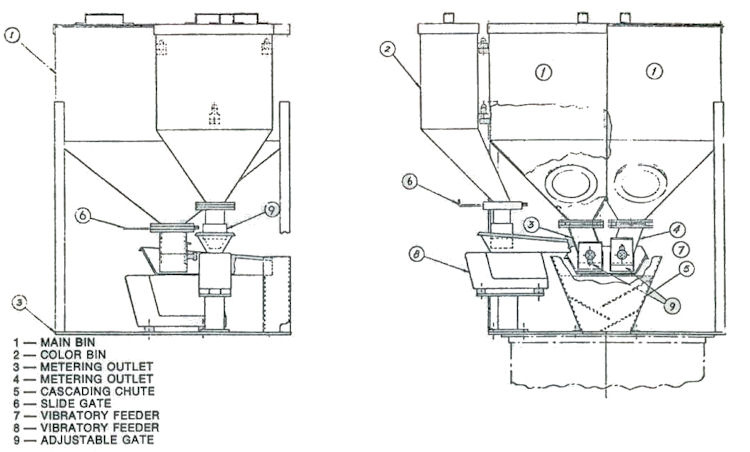 Options
An important optional feature available on the Mini-Blender is color concentrate or additive blending. One or two small bins can be mounted on the main bin. These bins use a special low feed rate vibratory feeder and control, feeding the color (or additive) material directly onto the large virgin/regrind vibrator. The ratio of color (or additive) to virgin is then set by adjusting the output of this auxiliary feeder control. Once the basic ratio is established, a master control permits increasing or decreasing the output of the blender without changing the preset ratio.

Mounted on legs with blower mounted to convey mixture to the processing machine.
Mounted on high legs for drum discharge.
Mounted on legs with collection box and vacuum tray adapter for multiple loading to processing machines.
Mounted on a conical extruder bin.
With one or two color/additive bins and feeders.
Extensions on virgin and scrap bins for vacuum loading.
High and low level switches for any bin.