Packaged Food Metal Separators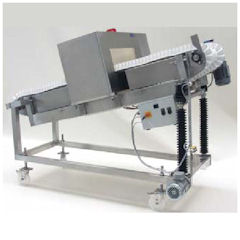 Our tunnel detectors are perfect for detecting metal contamination in packaged and non-packaged food products. Enclosed in a stainless steel housing, these tunnel detectors will completely surround a product as it moves along a conveyor belt or down a shute and passes through a magnetic field. Using a tunnel detector that scans the entire product ensures that any foreign metal material will be detected.
MPULSE BD
Applications
Conveyor Belts HQ for MPULSE BD
MESEP Digital
Tunnel Detector Applications
MPULSE BD
If you're looking for the highest level of sensitivity possible, we suggest the MPULSE BD tunnel detector which is mostly used for detecting metals in products moving down a conveyor belt. A contaminated product can be removed either manually once the belt stops or an alarm sounds or automatically using a rejection device.
With its sensor and control unit housing made of sturdy stainless steel, this unit requires no maintenance even in the most challenging industrial environments. All of its internal electronic components are securely installed inside a second stainless steel enclosure which makes it easy to washdown. Capable of handling daily steam hose cleaning with maximum of 1000 psi, the MPULSE BD is perfect for those food processing plants where cleanliness is strictly enforced.
Applications
Conveyor Belts HQ for MPULSE BD
MESEP Digital
Tunnel Detector Applications