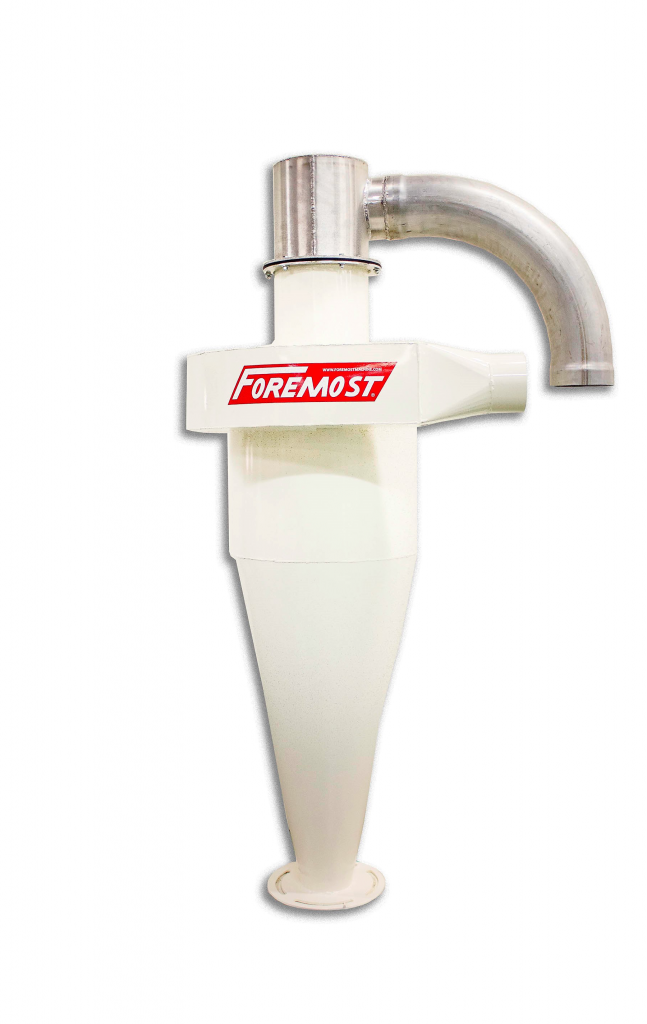 Receiving cyclones are used in conjunction with blowers in transporting plastic material. The cyclone is used to separate the plastic material from the conveying air. The material enters the cyclone through the tangential material inlet. The air is evacuated through the gas exhaust at the top of the cyclone. The plastic material spins in the cyclone and discharges out of the bottom.
Gas Exhaust Filtration
Dust particles can be carried over with air at the gas exhaust outlet on the cyclone. Three levels of filtration are available as standard options with Foremost Cyclones.
The first is a simple cotton Type "E" draw string filter bag which mounts directly to the gas exhaust outlet. The second is a single bag hanging filter bag. A 35 to 40 micron 7 oz Enamelion duck filter bag is hung off a horizontal scroll with a 90 degree elbow.
Safety Dump Valves
If these bags are not regularly emptied the material accumulated in these bags can weigh several hundred pounds. This weight, and the elevated location of some bags, can sometime make it difficult to reach and handle the bags while cleaning them out.
To help overcome this problem, Foremost has developed a valve for installation on the bottom of the filter bags. This valve will automatically dump material out of the bag when the weight of accumulated material inside exceeds a pre-set value. A drum or gaylord positioned under the valve is used to collect the dumped material.
Features
Aluminum filter housing and cyclone
Optional: Stainless Steel and Carbon Steel
15.5 Square Feet of 100 Micron Filtration Media
Optional: Filtration Media Grades
Available with multiple inlet diameters
6″ Diameter Discharge
Flange mounted for mounting to bins, drum stands, and gaylord stands
99.9% Dust Free on particles at 100 Microns or more
Automatic Pulse Jet Filter Cleaning with a Pulse Timer Panel
| MODEL | Operating Range Cfm-Air Only | Material Inlet Size |
| --- | --- | --- |
| 250 | 190-280 | 2 3/16″ OD |
| 500 | 370-540 | 5″ OD |
| 750 | 560-820 | 5″ OD |
| 1000 | 750-1100 | 5″ OD |
| 1500 | 1100-1650 | 8″ OD |
| 2000 | 1500-2200 | 8″OD |