Ring Metal Detectors For Process Control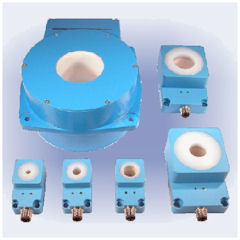 Ring metal detectors or sensors are electronic devices for detecting the presence of unwanted metal contamination in a flow of material moving through a pipe. The ring sensors used in our metal separating systems can also be used as singular components in other industrial applications. For example, they can be used assensors for piece counting or for ejection control of stamping parts, for wire breakage monitoring or for the detection of metallic objects. The output signals of the ring sensors can be used for controlling, regulating, signalling or for evaluating processes. We provide a large program of ring sensors that differ in design, sensitivity or the type of the output signal.
Ring Detectors in Metal Casings
Ring Detectors in Plastic Casings
Applications
Switching Amplifiers
Kinds of Output
Ring Detectors in Metal Casings
Enclosed in metal casings, our ring metal detectors are used to all types of metal. The pass openings are mainly round and the detector casings are made of metal which shields them against external magnetic influences. If metal is registered, an electrical impulse is available at the output end of the transistor. The transistor outputs have static or dynamic switching behavior, depending on the ring type. Ring detectors in metal casings can be obtained with round pass sizes of 20 to 300 mm with various sensitivity levels and design shapes. Certain areas around the detector must be laid out in such a way that they are free of any moving metal parts prior to fitting the ring detectors.
Ring Detectors in Plastic Casings
Applications
Switching Amplifiers
Kinds of Output