Sausage Filling Metal Separators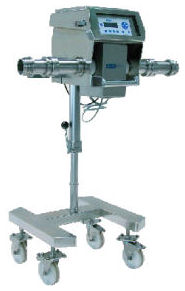 Metal detection is a key component of the food making process and and safety, especially in food processing plants using machines with many moving parts for manufacturing. Disruption further down the processing line can occur if contaminants are not removed, which can also lead to costly recalls. Our sausage detectors make sure that all types of metals, including the most common stainless steel, are detected in food products before they are shipped. It also helps customers fulfill quality goals and protect expensive downstream production equipment.

Our detectors are designed to satisfy the Safety Category IP 65. Higher safety categories for high pressure cleaning are available as an option. Our sausage filling detector has a stainless steel finish and is sealed to IP 65 standards for withstanding the high temperature, high washdown environment of the meat industry. We offer solutions for tube diameters NW 40; NW 50 and NW 65.
Versions
We offer two types of sausage detectors: cart and stationary in-line systems. The cart type systems
allow you to adjust the height of the unit ensuring the simple integration of thinks like the storage compartments for odds and ends and mechanical protection of the operating keypad.
How Sausage Detectors Work
With our sausage detectors, the handling of the sausages and the sausage filling process is completely automated. Once metal is detected, the filler pushes the sausage filling through the separating filter, which is now open and stops the clipping machine for that moment.
Suitable connection flanges are available so that sausage filling systems and aluminum clip machines from leading manufacturers can be integrated as easily as possible. The electrical interlinking of an in-line detector occurs with a device specific plug, which is simply plugged in between the sausage filler and the clipper units.
Advantages
Outstanding Sensitivity, Accuracy, Stability and Precision.
Product Effect Compensation featuring the ltest four channel DDS [direct digital synthesizer] and DSP [digital signal processor] technology.
High Processing Speed – DDS and DSP makes the MPULSE the leader in digital metal detection.
Digital balance control – levels temperature and humidity influences.
Easy Setup
Auto calibration – once the unit is calibrated there is no need for recalibration.
Digital Noise Filters – eliminate undesirable signals such as vibrations and shocks.
Mulit-channel Technology – for the optimum recognition of all metals; ferrous, nonferrous and stainless.
Power supply – wide input 85-265 V AC works great even with unstable and poor power sources.
Automatic diagnostics – possible functional defects of the device are displayed on a separate output contact.
The separating piston is also taken apart and cleaned in a very brief time. As a result of a new functional principle, tiny bones can no longer cause blockages.
All the seals are long-lasting and reliable.