Sheet and Web Granulators – SW-0936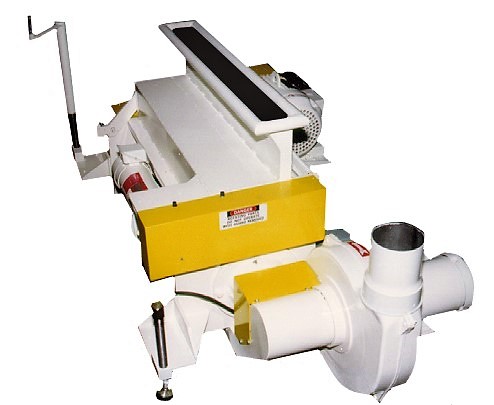 Foremost's SW-0936 Low Profile Sheet & Web Granulators process thermoform scrap including skeletal scrap, sheet web, expanded polystyrene, high impact polystyrene, HDPE, ABS, PET, and CPET. Featuring heavy duty construction and designed for easy maintenance, the SW-0936 promises a consistent throughput ranging from 800 to 1500 lbs/hr. With various options for optimized performance and consistent results, the SW-0936 Granulators offer a superior reduction plan for your thermoform materials.
Features
Feed Roll infeed (paddle optional) for processing material in line with a
constant pulling force adjusted to the line speed of your thermoformer.
Infeed and maintenance access via gas springs for cleaning and color
changes.
Pivoting Screen cradle for easy removal of screens.
Throughputs ranging from 800-1500 lbs/hr.
Multiple feed entry hoppers (optional)
Low Profile, airveyor base with casters.
Applications
| Feed | Center |
| --- | --- |
| Roller Feeder | Full width 2 roll (1 steel, 1 rubber covered) with 3/4 HP DC torque drive. |
| Throat | 10" x 36" with 5/8 x 36 vertical feed roller feeder |
| Chamber | Center feed, carbon steel opening |
| Rotor | Two bladed, open skewed |
| Screen | 5/16" dia. Holes |
| Bearings | 3" flanged, piloted, ball bearings external grease fitting |
| Casters | (4) 6" heavy duty, swivel casters two with toe locks |
| Discharge | Airveyor discharge 5"OD |
| Motor | 10 HP TEFC |
| Safety Switches | On inlet and blower chute |
| Discharge | One Unloading blower, 5 HP direct drive, 5"OD discharge, 500 CFM. Also included is a Model 500 Receiving cyclone |
| Controls | NEMA12, 110 volt control panel with fused disconnect and all starters electrically interlocked |