Heavy Duty Granulators HD-5C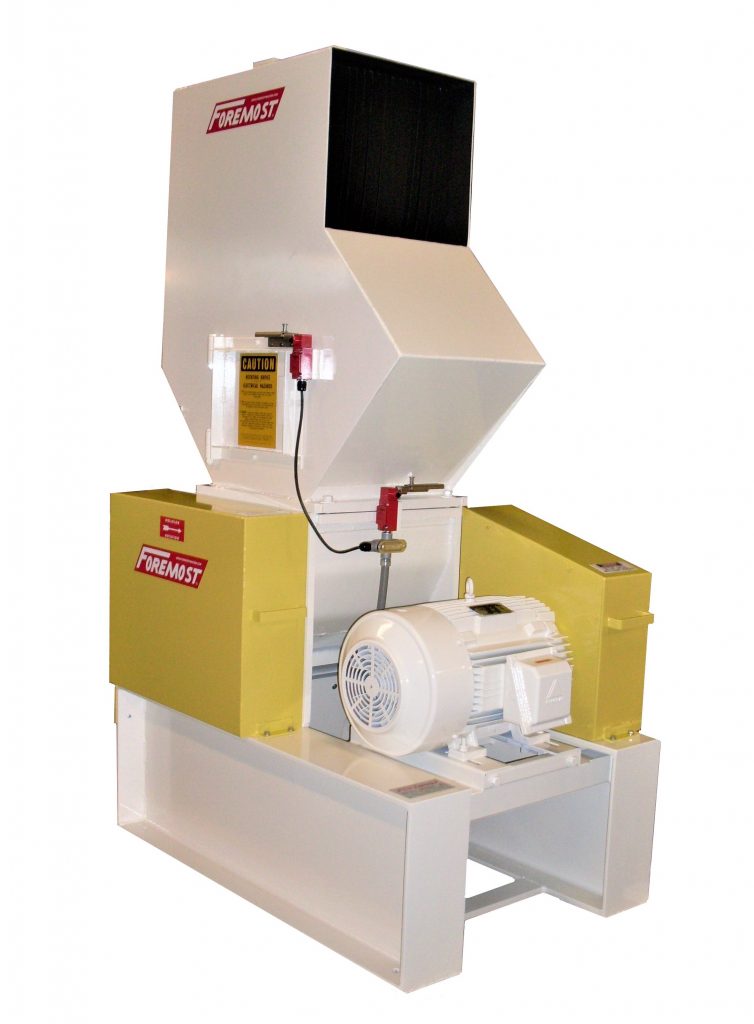 Designed for blow molding, injection molding and recycling industries, the Foremost Model HD-5C Heavy duty grinder is constructed with an offset rotor, self-aligning roller bearings and is powered by a 30HP 1800 RPM TEFC motor.
Standard Features
• HIGH SHEAR KNIVES TO MINIMIZE FINES & DUST FOR PE AND PP APPLICATIONS
• OFFSET ROTOR DESIGN TO MINIMIZE FLYBACK
• THREE 18" ROTARY HI-SHEAR TWO 20" BED
• HEAVY DUTY SELF ALIGNING ROLLER BEARINGS
• POWERED BY A 30HP 1800 RPM TEFC MOTOR.
Application
Required Options
Optional
Specifications
AIR SEPARATOR HOPPER INLET
The air separator hopper is available with multiple inlet arrangements as listed below.
| # of Inlets | NONE | 1 | 2 | 3 | 4 | 1 | 1 |
| --- | --- | --- | --- | --- | --- | --- | --- |
| Size | Blank Plate | 10" Square | 10" Square | 10" Square | 10" Square | 12" Square | 12" Square RH |
| # of Inlets | 1+2 | 3 | 1 | 1 | 2 | 1 | 1 |
| --- | --- | --- | --- | --- | --- | --- | --- |
| Size | (1) 12" Square & (2) 10" Square | 12" Square | 10" Outer Dia. | 11" Outer Dia. | 11 ½ Inner Dia. | 12" Outer Dia. | 14" Outer Dia. |