Heavy Duty Grinders HD-2 & HD-2H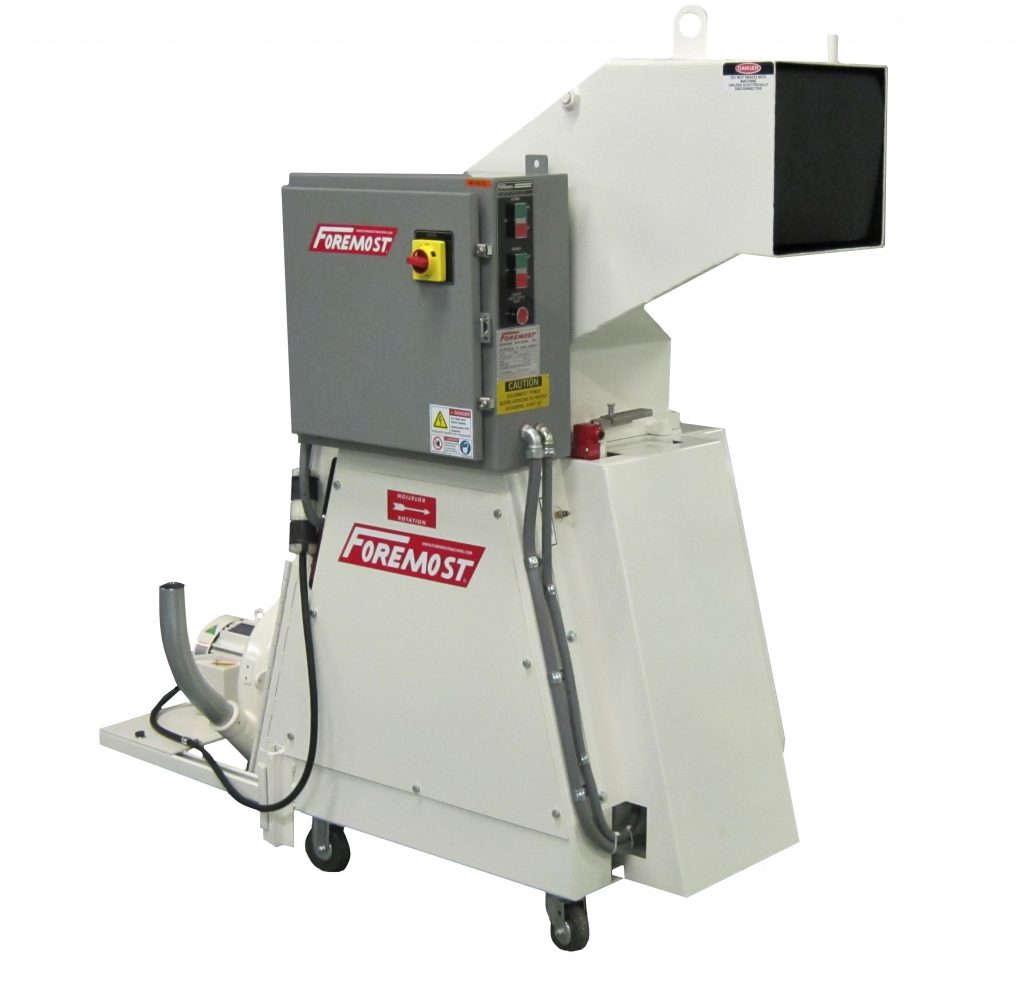 The Foremost Models HD-2 and HD-2H heavy duty scrap grinders are designed specifically for beside-the-press operation. These machines are constructed of heavy gauge steel throughout, with the cutting chamber a rigid one-piece weldment.
The rotor is a solid steel weldment, and is offset in the cutting chamber to minimize flyback and noise, while ensuring positive cutting of large or bulky rejects from any thermoplastic materials. A wide range of throat sizes and power options insure a Heavy Duty Granulator sized properly for every molding application.
Standard Features
Options
Standard Features
Tangential Feed
Self-aligning flange bearing
NEMA 12 enclosure
Offset 2 bladed segmented ribbed hook rotor
Heavy gauge steel construction
Manually unloaded discharge bin
Casters (2 rigid and 2 swivels)
Hand feed hopper
Options
Model
Throat
Horse Power
Bed Knives
Rotor Shaft Diameter
Cutting Diameter
Screen Standard
Thru put Lbs/Hr
Lbs/Hr
Shipping Weight
Dimensions
(D x W x H)
Infeed Height
HD2
10″14″
7 1/2
2
2
2 1/4″
9″
1/4," 5/16
3/8″ 1/2″
200-250
1100 Lbs.
30″ x 28″ x 65″
55″
SHD2
10″14″
15
3
2
3″
9″
1/4," 5/16″
3/8″ 1/2″
200-250
1110 Lbs.
30″ x 28″ x 65″
55″
HD2H
10″14″
7 1/2
2
2
2 1/4″
9″
1/4," 5/16″
3/8″ 1/2″
350-400
1110 Lbs.
30″ x 28″ x 67″
57″
SHD2H
10″x14
15
3
2
3″
9″
1/4," 5/16″
3/8″ 1/2″
350-400
1110 Lbs.
30″ x 28″ x 67″
57″